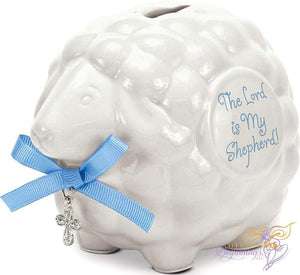 The Lord is My Shepherd Savings Banks
Classy and elegant beautifully sculpted Christian-themed bank for children features white ceramic finish and comes with a satin ribbon and a silver cross charm. The text reads, The Lord is My Shepherd.
Makes a perfect gift for any occasion - and special occasions like the birth of a baby, baby showers, birthdays, and christenings and baptisms.
Available in white with blue print.
Size: 5.75" x 5.00" x 5.00"