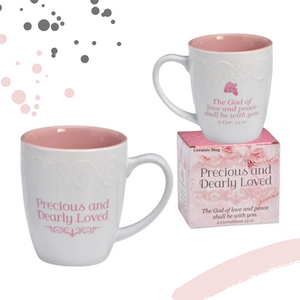 Precious and Dearly Loved - Christian-themed Mug
This beautiful 12-ounce ceramic mug has embossed design featuring Bible verse - The God of love and peace shall be with you - 2 Corinthians 13:11. 
It's pink on the inside with soft white and pink on the outside. It makes a practical and pretty gift that Christian women will adore! It comes packaged in a sturdy, attractive, matching gift box.
The mug is dishwasher and microwave safe.