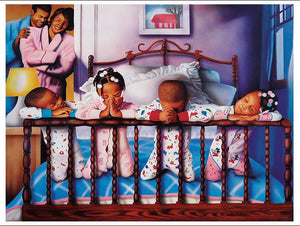 Their Nightly Prayers - 500-Piece Puzzle
Kids will love this puzzle that features children praying as the prepare for bed. 
Their Nightly Prayers Puzzle is made of 500 durable interlocking pieces. While the individual die-cut of the pieces may vary, this puzzle is always quality made with soy-based inks and recycled cardboard. Finished size is 18″ x 24″, and the art is by Alan Hicks. Recreate this puzzle again and again or frame your finished masterpiece and use it to decorate your space!